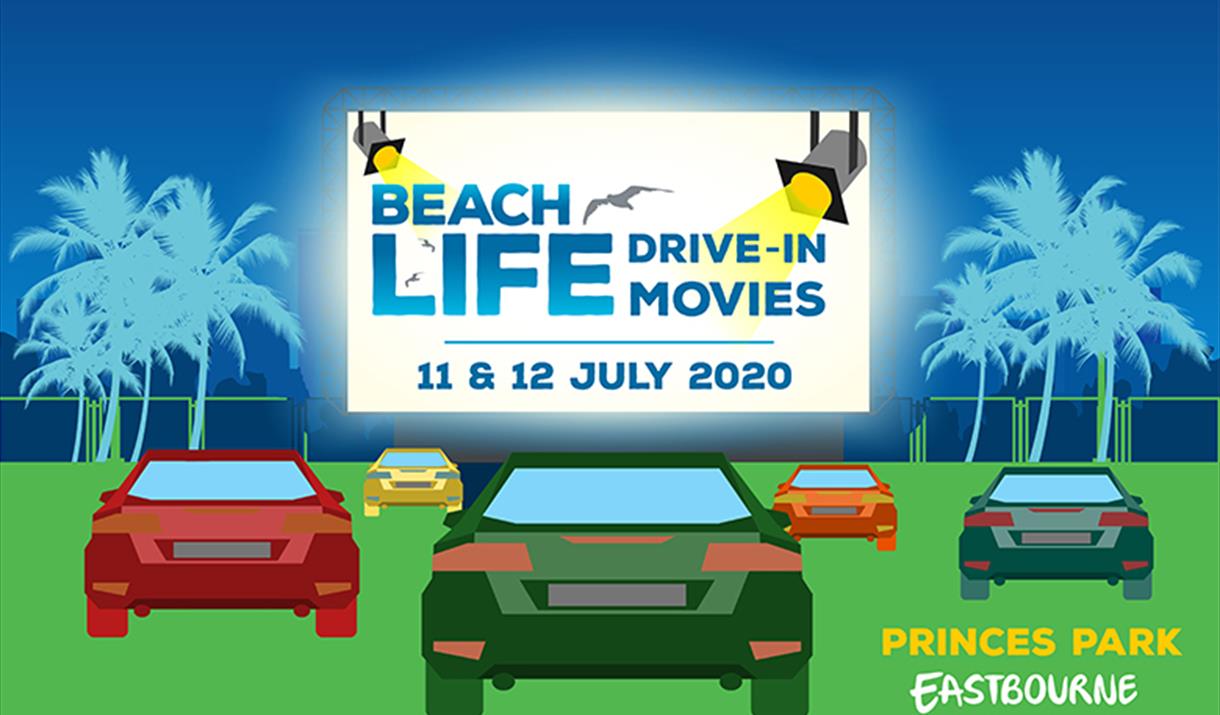 About
Drive-in Cinema

Join Beach Life 2020 for a new drive-in movie festival screening of family favourites at Eastbourne's Princes Park. Due to social distancing guidelines this year's Beach Life is taking you to the movies! The two day drive-in movie festival will take place in Princes Park on 11th – 12th July with family favourites being shown in the afternoon and grown up movies in the evening.

Tickets
Tickets can be purchased online only via the Eastbourne Bandstand website.
Prices are £20 per vehicle.
Please make sure you are booking for the correct screening as spaces are limited.
The following guidelines have been put in place to ensure the safety of yourself and others is paramount, in order to run a successful and safe event during these difficult circumstances. Please ensure you follow the guidelines while attending the drive in cinema. Failure to do so will result in you being asked to leave the event site. Most of all, we want this to be an enjoyable event for everyone! We look forward to welcoming you all in July. If you have any queries, please contact eastbourneevents@lewes-eastbourne.gov.uk
Event Opening Times
Please be advised that the event site will open at 14:30pm (one hour before film start time) for the children's daytime showing and at 18:00pm for the evening session (one hour before film start time). Please have your e-ticket ready to present to the marshal at the entrance. Tickets are sold in advance only and cannot be purchased on the day. Please keep your windows closed during the check-in process and show your ticket through the screen. Vehicles will be directed out of the event site promptly after the screening has finished. At the end of the movie you MUST NOT reverse your car. everyone will be filtered out by the marshals individually.

Several marshals will be on site to assist with the safe parking of all vehicles and traffic management. Please adhere to instructions; they are there for the safety of you and others. All spaces will be marked out with a clear 2 metre distance between one another. Anyone seen to be actively breaking the rules will be asked to leave the event site.

Please see the list of FAQs
TripAdvisor
Map & Directions