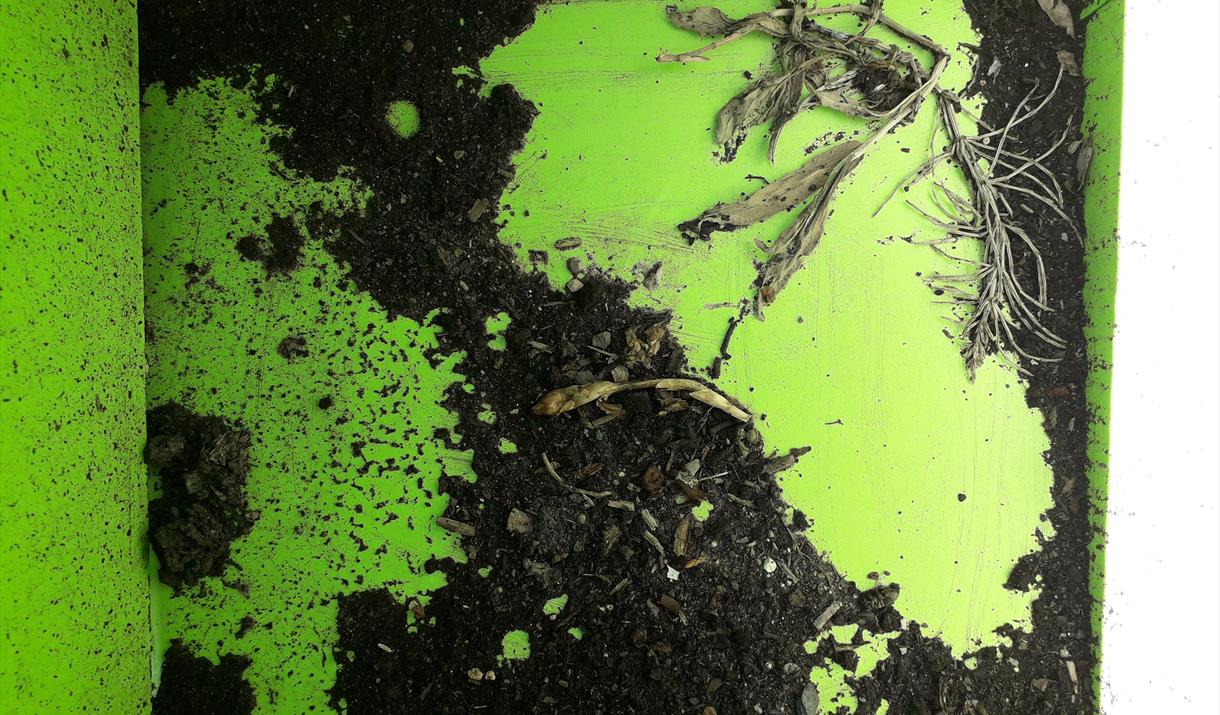 About
NO BOOKING REQUIRED FOR THIS WALK JUST TURN UP!
Delights of the Garden' is a collaboration between Tempo Arts & Compass Community Arts, partners & participants to create art in 7 allotment plots. Workshops in July/August will produce creative works informed by food production & nature.
'Delights of the Garden' features artworks by members of Compass Community Arts, Gather collective, the children of Blackberry Buzzard & Christine Gist, a director of Tempo Arts. They have worked through August-September to create an art trail across 7 allotments where volunteers, visitors & other well being groups have met, talked & created, so embracing all the positives that flow from a 'dose of nature'.

The project is a creative response to the location celebrating the importance of nature for well being. There is a sense of inclusion for both participants & audiences as they experience innovative & challenging art work outside a traditional gallery structure.
The 7 allotments are managed by the Gather Collective – an Eastbourne community church which works in partnership with The Growing Futures charity. Compass Community Arts, led by director Fenya Sharkey, uses creative practice to develop self-esteem & confidence. Blackberry Buzzard CIC is a non profit organisation run by volunteers who work with children, schools & families in natural settings. Tempo Arts Ltd is a not for profit international arts organisation based in Hastings which commissions new artworks which are frequently presented outdoors.
Access -The main paths in the allotment are accessible for wheelchairs but paths between individual allotments are narrow. These access routes are accessible to push chairs but difficult for large prams.
Contact for the day: Fenya Sharkey Phone: 0788 980 5022
Directions - By car: Head SW on Royal Parade Turn right on Channel View Rd, directly after Princes Park Turn right onto Seaside Rd/A259 & immediately left onto Churchdale Rd. Go through one roundabout Destination will be on the right, down a cycle/pedestrian path which runs beside a stream. An A board will show the allotment entrance. Free on-street parking on Churchdale Rd & Bridgemere Rd. By bus: Churchdale Road. Bus: 1 1A, X bus stop in Bowood Ave, Eastbourne BN22 8RX & Bridgemere Rd bus stop for the 5 & 5A bus.

This is an easy, short walk with an approximate distance of 1 mile.
Dogs are welcome on this walk.
There are toilets facilities on this walk.
This walk is not pushchair or wheelchair friendly.
tempoarts.org.uk/
www.compasscommunityarts.co.uk/
Book Tickets
Tripadvisor
Map & Directions