Whether you want to fly high, get your pulse racing or hit the water, Eastbourne is the perfect place to get out into The Great Outdoors and experience an active adventure. Read on for some of our favourite activities…
Kayaking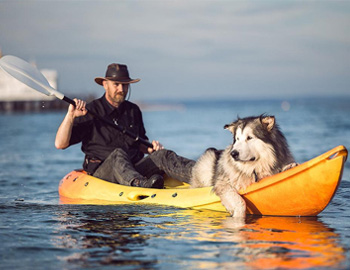 Fun for all ages, kayaking is a great way to keep active and enjoy the sea, while hopefully staying dry!
Suitable for all skill levels, beginners can enjoy paddling along the seafront for a unique view of the town while perfecting their technique, and for those with more experience, venturing out towards Beachy Head lighthouse to marvel at the views of the chalk cliffs is a great way to spend an afternoon, just be sure to keep an eye on the tides.
With double kayaks readily available, why not head out for a paddle with a friend or loved one for an active adventure to remember!
For more information and to hire kayaks, visit Eastbourne Kayak and Surf Hire.
Stand up paddleboarding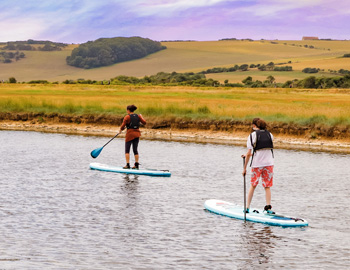 Stand up paddleboarding, or SUP for short, is becoming ever popular along the coast of the UK. Never heard of it? With it's roots in Hawaiian surf culture, think of a hybrid between surfing and kayaking and you are almost there!
Standing on a big board which floats on top of the water, reminiscent of a surf board, a paddle is used to glide through the water.
Although suitable for all skill levels, don't be fooled into thinking this isn't a proper workout. Requiring balance to stay afloat and upper body strength to paddle through the water, it's a fantastic way to keep fit, enjoy the view and most importantly, have fun!
Try your hand at paddleboarding with Buzz Active.
Paragliding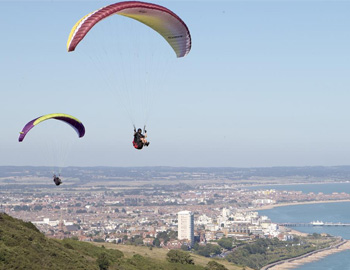 There really is nothing like paragliding. Feel the rush of adrenaline as the wind sweeps you off of your feet and up into the air, while the views of South Downs National Park unfold beneath you.
Suitable for a wide range of ages and fitness levels, paragliding offers a unique perspective of our town. Once the initial rush of adrenaline wears off, a serene sense of calm and peacefulness washes over you as you soar through the sky.
To find out more and book your paragliding experience, head over to Airworks paragliding.
Related
0 Comments