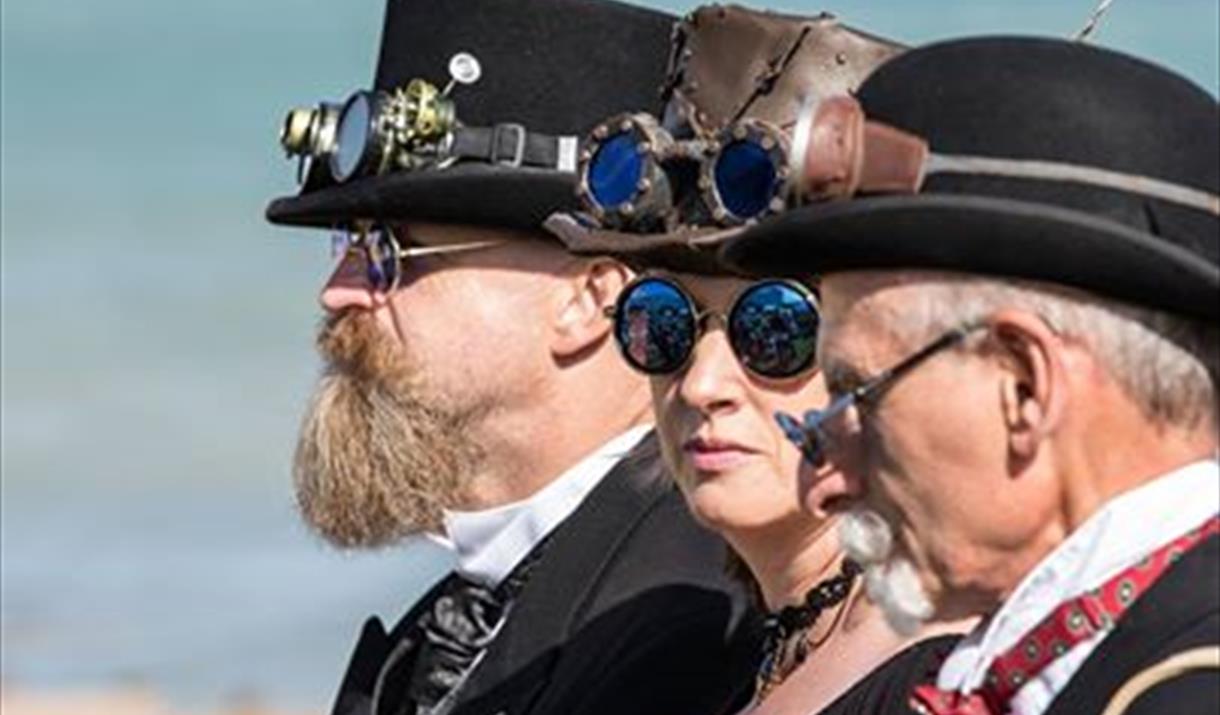 About
Come one, come all! Marvel at the curiosities, revel in the entertainment, indulge in the delights! There will be entertainment, live music, beer tent, stalls and a children's fair.

Spanning from the Wishtower slopes to the Bandstand, this event aims to astound, dazzle, entertain and delight visitors of all ages. The evening of the Saturday will also host an adult only night's entertainment; a masked ball venue at The Fishermens, featuring music, dancing, burlesque and much more!

Steampunk means many different things to many different people. To some it is a fashion, style of dress, a persona. To others it is art, craft, design, even a complete lifestyle.

At it's heart and in it's beginnings Steampunk is a genre of science fiction, branching out of the Cyberpunk of the 1980's but set in a pseudo-Victorian style era instead of the stark futuristic future of Cyberpunk.

Imagine a world where the Victorians where far more technologically advanced than they were in reality, steam driven airships travel the skies, immaculately dressed adventurers and explorers armed with aether powered ray guns, clockwork horseless carriages transporting ladies and gentlemen around large gothic industrial cities, mechanical time machines.

Steampunk comes in many different styles; for some it's all top hats, tailcoats, goggles and gears; for others it's pith helmets, khaki jackets, moustaches and steam powered blunderbusses; for others still it's lab coats, gadgets, magnifying glasses and mad inventions! All these themes and personas blend seamlessly into a wild, wonderful, bizarre retro-futuristic world where the march of time and technology took a very different route to the one we know today.

Steampunk has been incorporated into movies, music, literature and art, even the gaming world, and is gathering a substantial following and fanbase in all of these things. Movies like "The time machine", "Wild wild west", "Hellboy"2 and "Dark city" are all a good place to start if you want to learn more.
Book Tickets
Guide Prices
This is a FREE event!
Tripadvisor
Map & Directions