New Eastbourne Brochure Showcased at Dutch Travel Show
23rd January 2020
Eastbourne's 2020 Holiday Guide launched to wide acclaim last week at the Vakantiebeurs travel show in The Netherlands.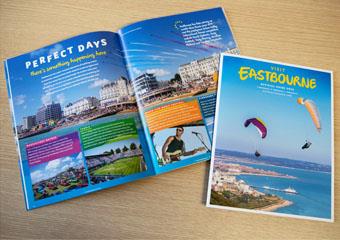 With over 100,000 people attending the upmarket Dutch show, the new brochure was handed out to potential new visitors and trade members at the England's South Coast exhibition stand. Eastbourne also featured as a destination partner in an accompanying South Coast touring map and leaflet handed out across all five days of the event.
Since its arrival early in December, UK visitors have been flicking through the glossy brochure, aimed at those booking their holidays this year, with copies either downloaded or posted far and wide, using the free postal ordering service from VisitEastbourne.com.
A distribution campaign also sees the brochures displayed at tourist information centres across the UK, as well as through a variety of holiday brochure request websites.
The glossy 56 page brochure this year particularly focusses new spreads on The Beacon and Devonshire Quarter following their recent investment, as well as new features on independent shopping, Sovereign Harbour, mindfullness, trails & itineraries and even a new heritage timeline of the town.
With other features on attractions, events, entertainment, culture, outdoor activities and the South Downs National Park, a 13 page accommodation section encourages visitors to stay and includes VisitEastbourne member hotels, B&Bs, self catering and camping. Members also feature online at VisitEastbourne.com with online booking available.
Eastbourne Borough Council Lead Cabinet Member for Tourism and Enterprise, Cllr Margaret Bannister said "This is a great showcase for our new brochure. Dutch visitors particularly love the South Downs coast, meaning Eastbourne is extremely well positioned for this market.
We know from our own research that international visitors to Eastbourne tend to stay longer and spend much more than other visitors, around three times as much in fact, and through our work with Tourism South East we are able to reach this valuable market."
A follow up mini Resort Guide brochure is currently in production and will be distributed from leaflet stands across the south east from February, aimed at potential day visitors, as well as those visitors already staying in Eastbourne who are looking for ideas of things to do.
The handy mini A5-sized brochure features listings of attractions, things to do, restaurants, entertainment and shopping in and around Eastbourne to help visitors maximise their time while in the resort, as well as including useful discount vouchers.
The production of the Eastbourne Holiday and Resort Guides is a project led by the Tourism Marketing team. Work begins on 2021 brochures in May and businesses can join in by contacting promotions@lewes-eastbourne.gov.uk
To view the new brochure visit www.visiteastbourne.com/brochure.