Town Hall Talks See Britain's Surprising Ancestry Revealed Through Genetic Fingerprints
9th October 2019
The first in a series of Heritage Eastbourne talks at the Town Hall on 16 October will see Professor Ian Barnes from the Natural History Museum, uncover the mysteries of ancient Britain, through the genetic fingerprints of our ancestors.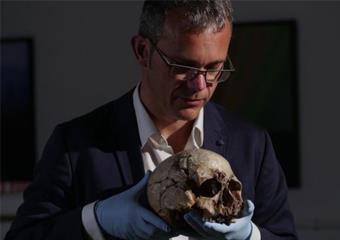 The examination of Mesolithic and Neolithic skeletons, including Britain's oldest near-complete skeleton at 10,000 years old – Cheddar Man, is the subject behind the largest international study of ancient human DNA ever conducted.
Co-senior author of the study, Professor Barnes, will unravel some of the fascinating and unexpected stories resulting from the examination of these farmers and hunter gatherers, including the first ever full DNA analysis of Cheddar Man. With the results bringing revelations of almost complete population change in the Early Bronze Age, the talk will challenge some of the most common ideas about British Prehistory.
Eastbourne Borough Council Lead Cabinet Member for Tourism and Enterprise, Cllr Margaret Bannister said "The Town Hall Talks have always been brilliant at revealing the unexpected while challenging our preconceived historical beliefs, and this season is no exception. We are delighted to welcome these incredible historians to Eastbourne and hear their surprising stories, often through the power of science!"
The talk is just the first in the series, with the second date set to welcome TV presenter Dr Jonathan Foyle, as he reveals 'The Lost Decoration of Historic Buildings' on 11 November. On 12 December, a festive edition will see author Mark Forsyth present 'Making Merry' as he uncovers yuletide traditions - and in particular, how, where and when humankind became merry.
'Ancient DNA & the People of Britain' starts at 7.30pm on Wednesday 16 October at the Town Hall, Grove Road, Eastbourne. Tickets cost £10 and include a glass of wine, and can be booked online or at Eastbourne Tourist Information Centre in Cornfield Road on 01323 415415.
For more information or to book online visit www.HeritageEastbourne.co.uk