Eastbourne Airshow Postponed Until 2021
26th May 2020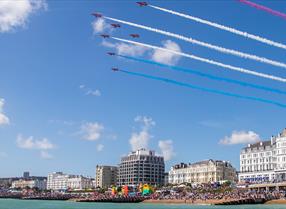 Airbourne, Eastbourne's international airshow will not be taking to the skies this summer as the Covid-19 pandemic continues.
For the health and safety of residents and visitors, the decision takes into account continuing forms of social distancing measures and ongoing demands on the Emergency Services over coming months. The show will return next year from 12 – 15 August 2021.
Eastbourne Borough Council Lead Cabinet Member for Tourism and Enterprise, Cllr Margaret Bannister said "Airbourne is a huge economic driver for Eastbourne, so we haven't taken this decision lightly. Over recent weeks we have been monitoring government advice closely, looking into alternative options, from changing dates to altering the format of the event, to try and bring some joy and a much needed economic boost for our tourism industry at this difficult time.
However the sheer scale of Airbourne with its huge following of fans and the incredible level of support required from the Emergency Services, just isn't viable this summer. Due to the commercial risks and logistical implications for everyone involved in the show, we need to make this decision now, and the safety of the public and preventing additional stresses on the Emergency Services and NHS must be our number one priority.
Thank you to everyone for their continued support. We are saddened at losing our biggest event this summer, however I can assure you we are still working hard behind the scenes, to investigate new events that we can stage on a smaller, socially distanced scale as soon as our visitor economy is back up and running over the coming months."
All work so far on Airbourne will be rolled over to next year, with charities for 2021 announced soon, including the result of the People's Charity vote.
All those booking trade stands, hospitality and seating will be contacted in due course with options to transfer to 2021 or receive a refund.
In the meantime the Events team are continuing with carbon offset plans towards the 2021 show with local tree planting. So far over 300 trees have been planted locally, including a large number along the A259 and at Cavendish School. This work will continue over the coming year and local schools and community groups can request free tree planting by emailing EastbourneEvents@Lewes-Eastbourne.gov.uk.
Airbourne returns from 12 – 15 August 2021 and fans can sign up online at www.eastbourneairshow.com to become an Airshow Insider and be the first to hear exclusive event and flying announcements for 2021.