Butts Brow Excavation to Discover our Neolithic Ancestors
9th July 2020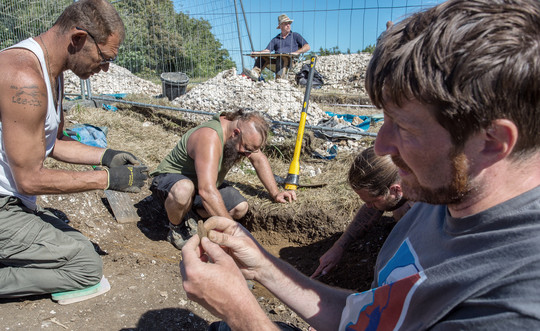 This summer will see Heritage Eastbourne's return to Butts Brow to uncover more about our Neolithic past and explore our Downland heritage.
The socially distanced excavation will run between 13 July – 2 August, with visitors welcome to pop by and learn more about the latest discoveries. Regular updates will be posted and live streamed from the excavation site through Heritage Eastbourne's social media channels and there will be guided site walks with small groups.
Eastbourne Borough Council Lead Cabinet Member for Tourism and Enterprise, Councillor Margaret Bannister said "An important development in uncovering our local history, this summer's excavation is a continuation of the work which Heritage Eastbourne began back in 2016, investigating an intriguing earthwork which appears to surround the hilltop above the Butts Brow car park near Willingdon.
The earthwork was created in the distant Neolithic era, around 5,000-6,000 years ago, when our ancestors were slowly starting to adopt a more settled lifestyle, beginning to farm and also clearing the Downs of trees.
From the previous excavation it wouldn't appear that this enclosure was defensive or that it contained settlement, but that perhaps it was built for more esoteric reasons.
It's clear that there is more digging to be done and we can't wait to find out what the team discover!"
The Neolithic was an era of monument building with the first major flourishing of organised, large scale ritualistic and religious behaviour. It is very possible that what lies at Butts Brow is connected in some way to the nearby Neolithic Causewayed Enclosure at Combe Hill… only time and some very careful archaeological work will tell!
Heritage Eastbourne organises at least one archaeological project each year to uncover some of the hidden stories from Eastbourne's past as well as a host of other courses, workshops and events. For more information visit: www.HeritageEastbourne.co.uk