Memories at New Exhibition
22nd July 2019
A new, free exhibition that celebrates over 70 years of children's television is to open at The Pavilion on Saturday 27 July.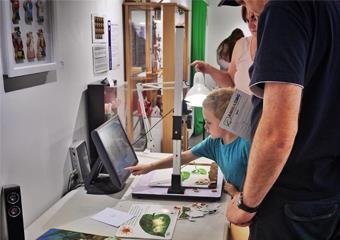 The Animazing Story of Children's Television exhibition will take visitors on a fun, interactive journey showcasing memorabilia from some of TV's most iconic shows. There will also be fun interactive exhibits demonstrating how our most loved characters were brought to life.
Visitors will begin their journey by exploring how pre-historic man may have used cave paintings to create the first ever animated characters. Then moving onto learn how simple puppets like Muffin the Mule and Sooty & Sweep were brought to life on screen.
Other characters and shows covered in the exhibition will include Clangers, The Wombles, Trumpton, Bagpuss, Magic Roundabout and Danger Mouse.
The exhibition will explore how special effects brought an exciting new breed of puppet characters to life in Gerry Anderson's Supermarionation series, Thunderbirds, and how merchandising became a huge part of our lives too. See how flying and underwater sequences were filmed and how programme makers still create realistic models from recycled junk!
Eastbourne Borough Council Lead Cabinet Member for Tourism and Enterprise, Cllr Margaret Bannister said "This new exhibition is sure to bring back many happy childhood memories for visitors and also introduce youngsters of today to some of the classic TV characters of yesteryear. We'd like to thank Animazing CIC for working with the council and other local business partners to bring this fantastic exhibition to the Pavilion."
Animazing CIC founder and creator of the exhibition, Paul Young said "We're really excited to be coming back to Eastbourne again this year with our biggest and best exhibition yet, and immensely grateful to Eastbourne Borough Council, Devonshire West Big Local and all our supporters for making this possible."
In the animation studio there will be the chance to see how award-winning UK studio Aardman Animations brought characters like Wallace & Gromit to life, there's even the opportunity for visitors to create their own animated character.
Finally in the live action studios visitors can have a go at presenting or directing a TV show, or step into the green screen studio and experience a dive underwater with a giant turtle or flying a broomstick over Beachy Head.
Admission to the exhibition which is open daily until the autumn is free. The Pavilion and cafe are open from 10am to 5pm.
For more information about the new exhibition visit http://animazingtv.azurewebsites.net