Walking Festival Provides Self-Guided Walks this Autumn
23rd September 2020
Walkers can try out a range of new hikes at their own pace this autumn, as Eastbourne Walking Festival reveals some of its favourite routes, curated through a series of self-guided strolls.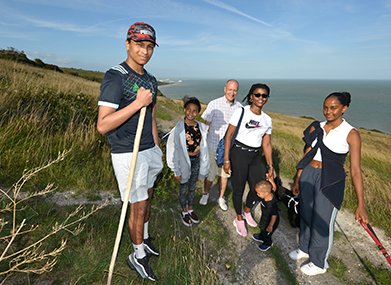 Despite the cancellation of planned walks due to the latest Covid-19 distancing guidelines, walkers can still explore the coast and countryside and enjoy some fresh air over the weeks and months to come, with detailed routes on the festival website.
From an exploration of the Heritage Coast, which runs from Beachy Head to the River Cuckmere, to 'Miles Without Stiles' a wheelchair friendly walk along the Cuckmere, the walks cover a wide range of abilities and mobility levels.
Eastbourne Borough Council Lead Cabinet Member for Tourism and Enterprise, Cllr Margaret Bannister said "Although we've seen the cancellation of more than 70 walks due to Covid-19, we are pleased to be able to extend the festival over the next few months with self-guided routes. These walks will hopefully provide a bit of inspiration this autumn, in fact all year round, to get out and about while exploring somewhere new."
For a peek into lives of the Bloomsbury set and to really step back in time, the 'Old Coach Road to Firle' walk takes in the stunning murals of Berwick Church and their home at Charleston, all along the historic Old Coach Road, where Peacocks can be seen, passing by Bo Peep hill and Firle Tower.
To discover the downland edges of Eastbourne, the Jubilee Way walk from the seafront to Butts Lane in Willingdon, is a great way to explore the town's woodland and open chalk grassland, taking in the contours around the back of Meads village, Old Town, Ratton and three golf courses. Dew ponds, pre-historic burial mounds and the remains of an 18th century windmill can all be found along the trail.
Keen shoppers can combine a spot of retail therapy with their hike on Wednesday mornings, as 'This Little Piggy Went to Market' follows the idyllic route from Eastbourne Downs Golf Course to East Dean, on market day.
To explore even more, walkers can download the ViewRanger outdoor discovery app for many more routes to navigate in the South Downs National Park, as well as taking part in Beat the Street, a free game which runs throughout the streets of Eastbourne until 4 November.
While exploring the town centre streets, walkers and art lovers can look out for new artworks and a giant mural in the former Debenhams and TJ Hughes buildings in Terminus Road, as well as plenty of art to discover at Towner.
The Eastbourne Walking Festival returns from 17 to 26 September 2021. To view self-guided walking routes, visit www.EastbourneWalkingFestival.com