Eastbourne Leads the Way in Reopening UK Destinations Safely
9th July 2020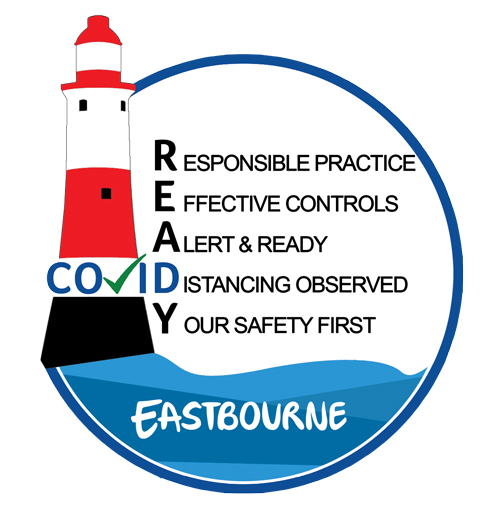 Eastbourne is launching a brand new quality assurance scheme for all businesses meeting strict social distancing and cleanliness guidelines, in a bid to become the UK's first multi-sector 'Covid-Ready' resort.
As the Sussex seaside destination begins to reopen, the new trailblazing initiative is the only free scheme in the UK to cover all industry sectors from accommodation and restaurants, to shops, pubs, takeaways and open air markets too.
Supported by the European Regional Development Fund and East Sussex Primary Authority, including Trading Standards, Environmental Health and East Sussex Fire & Rescue Service, the scheme is accessible to all business sizes and will provide expert guidance on best practice for social distancing measures, cleaning regimes, staff training and rapid response for tackling any signs of infection quickly and effectively.
Launched by the Eastbourne Hospitality Association in partnership with VisitEastbourne, the Chamber of Commerce and Eastbourne's Business Improvement District, the scheme will see businesses across the town signing up online and declaring that all the latest guidance and control measures are in place.
All businesses self-certifying that they have met the necessary guidelines will be displaying the 'Covid-Ready' logo with a free window sticker and other branding – making them easily identifiable to the public and giving residents and visitors extra reassurance that their safety is priority.
Businesses will be supported by a Business Toolkit and can be inspected to ensure the highest standards are always met. Businesses will also feature within a Covid-Ready list of venues on VisitEastbourne.com too.
EHA Chair Mark Cotman said "As Eastbourne prepares to welcome back visitors, we are all working together across the town to support our businesses with essential reopening guidance for the safety of all visitors, staff and residents too."
"Tourism is worth over £500 million a year to our local economy, so it is important that we take these steps very carefully, with robust safety planning to provide much needed reassurance and protect our industry."
"These may be unprecedented times, but I am delighted to say that Eastbourne has taken some bold steps and is leading the way as the first resort in the UK to provide a Primary Authority supported, multi-sector Covid Assurance scheme."
The scheme was the first to be raised in Parliament by the town's MP, and as well as inspiring public confidence, the scheme supports 'Book Local' and 'Buy Local' initiatives, with visitors able to book accommodation online through VisitEastbourne.com, ensuring that every pound spent supports the local economy, rather than the commission fees of worldwide booking websites such as booking.com.
An online PPE shop provided by the Eastbourne Hospitality Association is also enabling businesses to buy competitively priced items, including gloves, masks, sanitiser, aprons and anti-viral disinfectants, all locally and responsibly sourced to ensure vital NHS supplies are protected.
For more information, to sign up to the new scheme or purchase responsibly sourced PPE items visit VisitEastbourne.com/covid-ready.