Story of Children's TV Returns to the Pavilion
18th February 2020
A fascinating exhibition celebrating the story of children's television returns to the Pavilion for a second instalment in 2020.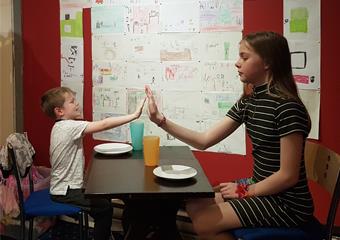 The free exhibition 'Animazing' showcases a range of nostalgic childhood TV favourites across 70 years with characters such as Muffin the Mule, Sooty & Sweep, Morph, The Thunderbirds and Wallace & Gromit.
Budding puppeteers can try their hand at bringing the characters to life, or try making sound effects, creating stop-motion animation and even presenting their own TV show.
With a new magic giant's table for 2020, visitors can discover some of the visual tricks of the trade as well as recreating a flying scene using a green screen studio projection.
The fun, educational experience begins by showing how moving image evolved from early man's attempts at 'moving' cave paintings and the Victorian's love of optical toys to modern day visual effects and animation techniques.
Eastbourne Borough Council Lead Cabinet Member for Tourism and Enterprise, Cllr Margaret Bannister said "This is a superb televisual showcase, not to be missed! Perfect for creative youngsters with a keen interest in a television career or for those looking to step back in time and reminisce their childhood favourites."
Animazing is supported by Eastbourne Borough Council, Devonshire West Big Local and Devonshire Collective.
The exhibition is free and is now open at the Pavilion on Royal Parade, from 10am to 4pm each day, with extended opening hours from 10am to 5pm from Sunday 29 March onwards.
For more information visit www.animazingtv.co.uk.