Beachy Head Marathon on Course for Huge Global Line-up
16th October 2019
With just a week to go, the Beachy Head Marathon is on course for one of its biggest global line-ups on Saturday 26 October, with thousands expected to cheer on the athletes.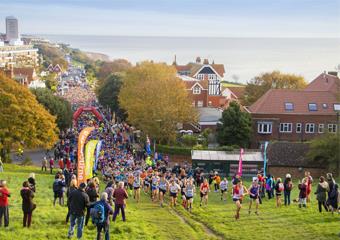 Over 3,000 runners are expected, some from as far afield as Norway, Australia and even Hawaii, with the stunning South Downs route all set to welcome the walkers, sports fans and families of participants who will be lining the route.
The event, which is one of the UK's biggest and toughest off-road marathons, also attracts a wide variety of ages and abilities, and this year is no exception with runners aged from 16 to 82, all looking to conquer the challenging 26.2 mile route or accompanying 10k course.
Throughout the day runners will have to overcome an eye-watering 300 steps, 14 gates and the equivalent elevation of 1,318m, as the route passes through magnificent coastal scenery. Taking in the picturesque villages of Alfriston, Litlington and Jevington, the route also passes through the Cuckmere Valley, Seven Sisters, Friston Forest and Beachy Head.
Eastbourne Borough Council Lead Cabinet Member for Tourism and Enterprise, Cllr Margaret Bannister said "This is a truly unique sporting experience and one which provides a nice boost to our local economy, from the many participants and their families who stay overnight and dine out here.
The atmosphere is always wonderful thanks to the spectators and many volunteers along the way, making it a superb day out to explore our wonderful coast and countryside."
This year will see a new format for the Leslie Smith award, which is dedicated to the Marathon's founding organiser. The award will for the first time be presented to the first person to cross the finish line between the ages of 18 – 20, in a tribute to some of the events budding young runners.
Where to Watch the Action
The Beachy Head Marathon begins at 9am on Saturday 26 October from the start/finish line at Bede's School. The 10k starts at 10am, running to Belle Tout and back. Marathon finishers are expected from midday, with the last participants back by 6pm.
The Brighton & Hove Buses Coaster route covers many viewing spots along the way and the Seven Sisters Visitor Centre and Beachy Head offering the best viewing spots with car parking, refreshments and toilets.
Road closures will be in operation on Dukes Drive, Upper Dukes Drive and in the village of Litlington for safety reasons, with access to businesses maintained.
Beachy Head Marathon is sponsored by Euro Self Drive, Bede's Prep School, GU Energy, Premier Stores and Tempo Running Shop. To volunteer along the route telephone 01323 415442 or email Julie.Paul@lewes-eastbourne.gov.uk.
For more information visit www.beachyheadmarathon.co.uk.