Bumper Year for Marathon Charities
4th December 2019
A range of local charities and good causes have benefitted from a huge donation from Eastbourne Borough Council as a thank you for their involvement in the 2019 Beachy Head Marathon.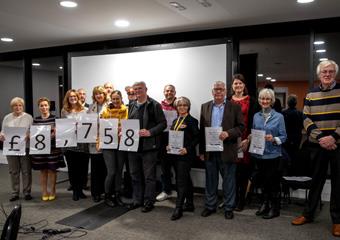 Following the event on 26 October, the council has donated £8,758 across a total of 14 volunteer groups that all played a valuable role in helping to stage one of the biggest off-road marathons in the UK.
Over 150 volunteers support the marathon and every year donations are given to each organisation in recognition of their assistance with marshalling, first aid and safety provision for over 3,000 runners, joggers and walkers who take part.
Eastbourne Borough Council, Director of Tourism of Enterprise, Phil Evans said "It is wonderful to be able to present donation cheques to each of the fantastic organisations who give their precious time in order to make the Beachy Head Marathon such a success. From starting early on race day to marshalling all areas of the 26.2 mile marathon and 10K route, these volunteers are always there, whatever the weather, offering assistance and encouragement to all.
2020 marks the 40th anniversary of the Beachy Head Marathon and to celebrate this, we are introducing the exciting new half marathon which we are sure will be just as well attended by all."
Since 2002, over £99,000 has been donated by Eastbourne Borough Council to various voluntary groups and worthy causes plus it is also estimated that charities receive approximately £100,000 per year through runner's sponsorship alone.
On Monday 2 December, the charitable donations were awarded by Eastbourne Borough Council at a special recognition event to representatives from; Victoria Baptist Church, The Mayor of Eastbourne's Charity (People Matter), HM Coastguard – Birling Gap & Eastbourne, Rotary Club of Hailsham, Eastbourne Sea Cadets Unit 117, Seaford Striders, Chestnut Tree House, East Sussex Foster Care Association, Beachy Head Ramblers, St. Johns Ambulance, Eastbourne Voluntary Lifeguards, South Downs National Park Authority and Helios Explorer Unit (Scouts).
The Beachy Head Marathon is also supported by Bede's School who kindly provide the use of their facilities on race day and race sponsors Euro Selfdrive, Premier Stores, Tempo Running Shop, GU Energy and Eastbourne Motoring Centre.
This years' winners of the Marathon were Luke Delderfield (3:05) and Rebecca Bunting (3:24) and the 10k winners were Euan Brown (36min) and Sue Fry (43min).
The Beachy Head Marathon, Beachy Head Half and 10k returns on Saturday 24 October 2020 and entries are now open online at www.beachyheadmarathon.co.uk. To volunteer call 01323 415442 or email eastbourneevents@lewes-eastbourne.gov.uk