Bandstand Preparing for April 2021 Reopening
3rd September 2020
Categories: Latest News
Eastbourne Bandstand will reopen next April with a full season of concerts planned, following this year's unprecedented widespread programme cancellation.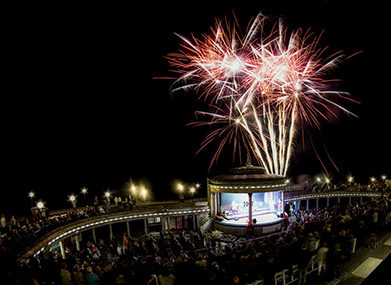 Returning with tribute shows, 1812 fireworks, Big Band and much more, the team behind the award-nominated venue are currently finalising a packed programme of shows for music fans young and old, with tickets on sale from December.
The current closure due to social distancing requirements means the historic venue will not be opening for its annual Christmas or New Year concerts, which attract more than 4,000 revellers every year. The annual tradition will miss out a year, as distancing cannot be feasibly managed.
Eastbourne Borough Council Lead Cabinet Member for Tourism and Enterprise, Councillor Margaret Bannister said "The partially enclosed nature of this outdoor venue and the thousands of festive spectators expected at Christmas, would simply not be manageable while social distancing is still a requirement. We have therefore taken the decision to regretfully cancel this year's Christmas and New Year concerts.
We shall however return next spring with a sensational line-up of live music, and we look forward to welcoming many of this year's acts back to the iconic Bandstand stage for some first class performances.
In the meantime, while remedial works continue we shall be tidying up the appearance of the Bandstand and providing visual displays to brighten up the structure while it is not in use."
Seafront visitors can still visit the Bandstand's middle prom balcony during the day, where the bar is open for takeaway refreshments and outdoor seating until 30 September, with a lively and varied music playlist broadcast throughout the auditorium speakers.
Tickets for next year's concert season will be on sale from 1 December and will be available from the venue's new website www.EastbourneBandstand.co.uk as well as Visit Eastbourne's new ticketing website www.VisitEastbourneTickets.com.
For more information, or to sell event tickets through the VisitEastbourne ticket agency, contact the Seafront team on 01323 410611 or email seafront@lewes-eastbourne.gov.uk .
RSS feeds