Eastbourne's COVID-Ready Scheme Welcomes Outdoor Attractions
17th September 2020
Categories: Latest News
Buzz Active is the latest organisation to become COVID-Ready as the Eastbourne quality scheme expands to include outdoor attractions.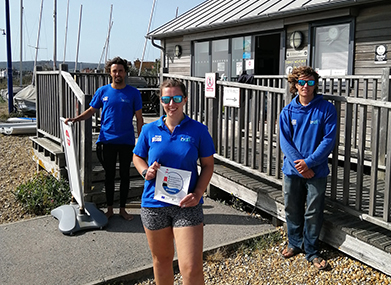 The UK's first Primary Authority supported scheme now encompasses more sectors than any other programme in England, with a full range of accommodation, outdoor attractions, retail, pubs, restaurants, cafés, takeaways, hair salons, outdoor markets, conference venues and even offices.
The first outdoor attraction to join the scheme, Buzz Active, see the watersports centre in Eastbourne and on the River Cuckmere using extra measures to protect their visitors and provide reassurance that the highest safety guidelines will be met, while they enjoy kayaking, paddleboarding and much more.
Displaying the 'COVID-Ready' logo, Buzz Active joins other businesses in self-certifying that they have met the necessary guidelines, making them easily identifiable to the public and giving residents and visitors extra reassurance that their safety is priority.
From strict social distancing to meeting cleanliness guidelines, the Primary Authority supported scheme provides best practice, latest advice, a Business Toolkit and risk assessment templates, helping businesses to reopen safely and respond to changing guidelines.
Buzz Active Centre Manager Richard Wilson said "We're delighted to be joining this scheme and becoming the first COVID-Ready outdoor attraction in Eastbourne. Since reopening we have followed the highest possible safety standards through robust distancing and cleanliness regimes, and our COVID-Ready status demonstrates our ongoing commitment to providing first class watersports experiences in the safest possible setting."
The Centre offers dinghy sailing, windsurfing, kayaking, powerboating and paddle boarding hire and tuition for ages 6 and up, including school groups, with facilities running up until 31 October.
Supported by the European Regional Development Fund and launched by the Eastbourne Hospitality Association in partnership with VisitEastbourne, the Chamber of Commerce and Eastbourne's Business Improvement District, the scheme has seen many businesses across the town signing up online and declaring that all the latest guidance and control measures are in place.
As well as inspiring public confidence, the COVID-Ready scheme supports local business with 'Book Local' and 'Buy Local' initiatives. All businesses are featured as COVID-Ready on VisitEastbourne.com, plus online accommodation booking ensures that every pound spent supports the local economy, rather than the commission fees of worldwide booking websites.
Mark Cotman, Chair of Eastbourne Hospitality Association says "It's fantastic to have Outdoor Attractions as part of the growing number of sectors to be included in the COVID-Ready scheme. As we move through the pandemic, enjoying the great outdoors, which Eastbourne has an abundance of, is a great way to enjoy a staycation."
An online PPE shop provided by the Eastbourne Hospitality Association is also enabling businesses to buy competitively priced items, including gloves, masks, sanitiser, aprons and anti-viral disinfectants, all locally and responsibly sourced to ensure vital NHS supplies are protected.
For more information, to sign up to the new scheme or purchase responsibly sourced PPE items visit VisitEastbourne.com/covid-ready.
RSS feeds