Walks Filling Up Fast for Annual Walking Festival
3rd September 2020
Categories: Walking Festival
Eastbourne Walking Festival will be taking a giant leap forward from 18 – 27 September, with the naturally socially distanced event already reaching over 80% capacity in its packed walking schedule.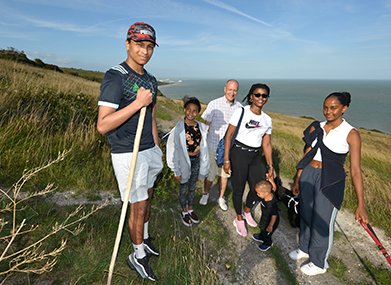 Featuring more than 70 free, socially distanced walks, keen ramblers can enjoy a spot of mindfulness with specialist wellbeing walks, as well as Nordic walking, historical outings and even tours of dew ponds and zebra crossings.
Following Ramblers Association and government advice, walks of up to 30 people can take place, making the festival an ideal and safe outdoor event. As well as limiting numbers to 30, walk leaders are receiving additional training on leading walks safely to comply with current government guidelines.
From the gruesome history of Dr Bodkin Adams in the Meads based walk "Where the Downs meet the sea" to the development of Victorian Eastbourne, Terminus Road and the archaeology of the South Downs, there is something to stimulate the mind of every budding historian.
Follow in the footsteps of Roman soldiers and smugglers in the Ancient Peelings Lane walk at Pevensey, uncover the 'Norway' area of Eastbourne, the Old Coach Road to Firle or discover the site of the WWII Friston Aerodrome and the lost village of Exceat in a challenging walk from East Dean to the Cuckmere Valley.
Eastbourne's Heritage Manager will be revealing the shaping of the Downs over 5,000 years, while Eastbourne Downland Group highlight sustainable foraging of 'food for free' from nature, and 'The Coach by the Sea' Kirsty Peckham brings Mindful Walking to feed the soul.
For some spiritual wellbeing, Polegate and Eastbourne Ramblers will be taking walkers on a pilgrimage to six downland churches and the Seven Sisters Challenge awaits from the Cuckmere to Eastbourne with Eastbourne's Walking Champion Gill Mattock.
Launching on 18 September with the return of 'Beat the Street' residents and school children are also encouraged to put their best foot forward and explore the streets of Eastbourne, recording each journey by tapping one of the many 'Beat Boxes' located on lampposts around the town.
Eastbourne Borough Council Lead Cabinet Member for Tourism and Enterprise, Cllr Margaret Bannister said "In a year of cancellations, it is encouraging to see so many walkers and walk leaders really embracing this event. With such a strong programme, this really is the perfect opportunity to discover something you did not know about Eastbourne, or simply continue to improve your fitness or mental wellbeing by enjoying some of our most treasured outdoor surroundings.
I would urge everyone to book well in advance, with numbers limited and most walks being free, many walks look set to fill up well before the event."
Eastbourne Walking Festival returns from 18 – 27 September, walks are free and must be booked in advance. To book visit www.EastbourneWalkingFestival.com.
RSS feeds